When Nelson Mandela passed away, we started to hear many of Mandela's inspiring quotations and stories again, and I thought to myself, I really want my son to grow up knowing about Nelson Mandela. I want his messages of love, forgiveness, hope, and peace to seep into his soul and be part of the character he is building. Lofty goals I know, here are the lessons I hope he learns.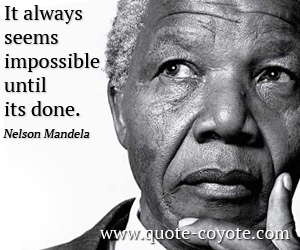 "It always seems impossible until it's done."
Some days life will be hard. There may be days or weeks or months in a row that are hard. You must. keep. going. Don't you dare give up. Keep working towards your goal, and when you look back to see how far you have come, you will be blown away.
"After climbing a great hill, one only finds that there are many more hills to climb."
Once you have finished something big, be proud of what you have accomplished. Then look around; there will always be more work to do. There will always be another mountain that needs climbing. But it's ok. You are not alone. We will be there to climb with you.
"Education is the most powerful weapon which you can use to change the world."
Stay in school, work hard, and respect your teachers. Learn as much as you can, and share what you have learned with others. I often wonder what you will be when you grow up. I do know that whatever it is, acquiring knowledge and thinking critically will give you the capacity to be a unstoppable force of change.
"I learned that courage was not the absence of fear, but the triumph over it. The brave man is not he who does not feel afraid, but he who conquers that fear."
It is ok to be afraid. Whether it's monsters under the bed, a math exam, or the death of a loved one, the trick isn't to never feel scared. The trick is to live life anyways. That is courage. To look at something scary and, "I can do that."
"The greatest glory in living lies not in never falling, but in rising every time we fall."
The Japanese proverb "Fall down seven times, get up eight" has the same message of perseverance and resilience. Even when it's hard - keep going. Even when you think you've failed - keep trying. Find that point where it feels uncomfortable and hard, push just a little bit further, and try again.
"No one is born hating another person because of the color of his skin, or his background, or his religion. People must learn to hate, and if they can learn to hate, they can be taught to love, for love comes more naturally to the human heart than its opposite."
Let yours be the generation that eradicates racism. And don't just settle for tolerance. Settle for nothing less than acceptance. You don't have to be best friends with every person you meet, but you do have to be respectful and compassionate.
"Our deepest fear is not that we are inadequate. Our deepest fear is that we are powerful beyond measure. It is our light, not our darkness that most frightens us. We ask ourselves, Who am I to be brilliant, gorgeous, talented, and fabulous? Actually, who are you not to be? You are a child of God. Your playing small does not serve the world. There is nothing enlightened about shrinking so that other people will not feel insecure around you. We are all meant to shine, as children do. We were born to make manifest the glory of God that is within us. It is not just in some of us; it is in everyone and as we let our own light shine, we unconsciously give others permission to do the same. As we are liberated from our own fear, our presence automatically liberates others.
"
This one is long, I know, but the vice-principal of my high school read it to us once, and it has stuck with me ever since. Find your path of excellence and dive in. Nurture the leader inside of you. And leadership isn't always loud and over the top and in the spotlight. You can inspire others and contribute in a calm and quiet manner if you'd prefer, just like Nelson Mandela did. You have much to share with the world, and the world needs you to share your gifts with others.
"Sometimes it falls upon a generation to be great, you can be that generation"
I hope when I'm old and grey, I can look back and think I've done some good things in my life. You are absolutely one of them. But I hope you can be even greater. I hope that you can do even more good things. Learn from mistakes made in history and do it even better. I'm sure every mother wishes that for her son. Every mother looks at her baby boy and sees him as a king. Will and Kate don't get the monopoly on that ;)
"Appearances matter — and remember to smile."
Be kind to others and remember the golden rule. Appearances matter in that if we are open, happy, and grateful with others, we may feel just a little better ourselves. On top of that, we are likely to make someone else feel a little better too. It is often said that people will not remember exactly what you said to them, but they will remember how you made them feel. So remember to smile :)
At Nelson Mandela's funeral, South African President Jacob Zuma said that Mandela was a, "fountain of wisdom, a pillar of strength, and a beacon of hope for all those fighting for a just and equitable world order." For me, the silver lining of his passing is that his messages are now again in the spotlight to remind me of what is important and what I want to model to my son.
xo
Jenn